Valve and Flange Machining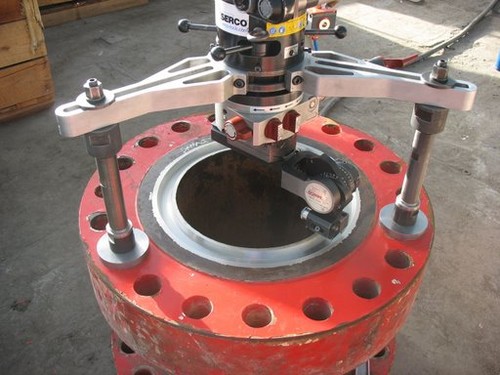 SERCO machines represent the culmination of over 40 years of technical expertise, know-how and SERCO'S understanding of the key issues of their industrial partners throughout the world.
SERCO's major advantage lies in their ability to design equipment whose component elements provide total rigidity, which, in turn, enables machining to be done with accuracy to 0.01mm.
What makes SERCO machines unique and particularly adapted to on-site machining is illustrated by their ease of installation and set-up. To set-up a flange-facing machine, adjustments need to be made in concentricity and parallelism.
SERCO is the only manufacturer in the world capable of building equipment that enables these two set-up operations to be carried out totally independently.
Surfacing & Boring
TU200 Flange & Valve Facing Equipment. Portable lathes for sealing surfaces, flanges and bores
0 mm (0.00") ID
200 mm (7.87") OD
TU400 Flange & Valve Facing Equipment. Portable lathes for sealing surfaces, flanges and bores
0 mm (0.00") ID
400 mm (15.75") OD
TU400 TE Flange & Valve Facing Equipment. Portable lathes for sealing surfaces, flanges and bores
0 mm (0.00") ID
400 mm (15.75") OD
TU600 Flange & Valve Facing Equipment. Portable lathes for sealing surfaces, flanges and bores
0 mm (0.00") ID
600 mm (23.62") OD
TU600 TE Flange & Valve Facing Equipment. Portable lathes for sealing surfaces, flanges and bores
0 mm (0.00") ID
600 mm (23.62") OD
TU1100 Flange & Valve Facing Equipment. Portable lathes for sealing surfaces, flanges and bores
0 mm (0.00") ID
1100 mm (43.31") OD
TU1100 TE Flange & Valve Facing Equipment. Portable lathes for sealing surfaces, flanges and bores
0 mm (0.00") ID
1100 mm (43.31") OD
TU 1200 Flange & Valve Facing Equipment. Portable lathes for sealing surfaces, flanges and bores
0 mm (0.00") ID
1200 mm (47.24") OD
TU 1400 Flange & Valve Facing Equipment. Portable lathes for sealing surfaces, flanges and bores
0 mm (0.00") ID
1400 mm (55.12") OD
FC 745 Chain Clamping
160 mm (6.30") ID
745 mm (29.33") OD
FC300 Chain Clamping
85 mm (3.35") ID
300 mm (11.81") OD
TU 800 Flange & Valve Facing Equipment. Portable lathes for sealing surfaces, flanges and bores
0 mm (0.00") ID
800 mm (31.50") OD
FC 1150 Chain Clamping
430 mm (16.93") ID
1150 mm (45.28") OD
See everything
Boring
TU200 Flange & Valve Facing Equipment. Portable lathes for sealing surfaces, flanges and bores
0 mm (0.00") ID
200 mm (7.87") OD
TU400 Flange & Valve Facing Equipment. Portable lathes for sealing surfaces, flanges and bores
0 mm (0.00") ID
400 mm (15.75") OD
TU400 TE Flange & Valve Facing Equipment. Portable lathes for sealing surfaces, flanges and bores
0 mm (0.00") ID
400 mm (15.75") OD
TU600 Flange & Valve Facing Equipment. Portable lathes for sealing surfaces, flanges and bores
0 mm (0.00") ID
600 mm (23.62") OD
TU600 TE Flange & Valve Facing Equipment. Portable lathes for sealing surfaces, flanges and bores
0 mm (0.00") ID
600 mm (23.62") OD
TU1100 Flange & Valve Facing Equipment. Portable lathes for sealing surfaces, flanges and bores
0 mm (0.00") ID
1100 mm (43.31") OD
TU1100 TE Flange & Valve Facing Equipment. Portable lathes for sealing surfaces, flanges and bores
0 mm (0.00") ID
1100 mm (43.31") OD
TU 1200 Flange & Valve Facing Equipment. Portable lathes for sealing surfaces, flanges and bores
0 mm (0.00") ID
1200 mm (47.24") OD
TU 1400 Flange & Valve Facing Equipment. Portable lathes for sealing surfaces, flanges and bores
0 mm (0.00") ID
1400 mm (55.12") OD
TU 800 Flange & Valve Facing Equipment. Portable lathes for sealing surfaces, flanges and bores
0 mm (0.00") ID
800 mm (31.50") OD
FC300 Chain Clamping
85 mm (3.35") ID
300 mm (11.81") OD
FC 1150 Chain Clamping
430 mm (16.93") ID
1150 mm (45.28") OD
FC 745 Chain Clamping
160 mm (6.30") ID
745 mm (29.33") OD
See everything
Tapping
TU400 TE Flange & Valve Facing Equipment. Portable lathes for sealing surfaces, flanges and bores
0 mm (0.00") ID
400 mm (15.75") OD
TU600 TE Flange & Valve Facing Equipment. Portable lathes for sealing surfaces, flanges and bores
0 mm (0.00") ID
600 mm (23.62") OD
TU1100 TE Flange & Valve Facing Equipment. Portable lathes for sealing surfaces, flanges and bores
0 mm (0.00") ID
1100 mm (43.31") OD
TU400 Flange & Valve Facing Equipment. Portable lathes for sealing surfaces, flanges and bores
0 mm (0.00") ID
400 mm (15.75") OD
TU600 Flange & Valve Facing Equipment. Portable lathes for sealing surfaces, flanges and bores
0 mm (0.00") ID
600 mm (23.62") OD
TU1100 Flange & Valve Facing Equipment. Portable lathes for sealing surfaces, flanges and bores
0 mm (0.00") ID
1100 mm (43.31") OD
TU 800 Flange & Valve Facing Equipment. Portable lathes for sealing surfaces, flanges and bores
0 mm (0.00") ID
800 mm (31.50") OD
TU 1200 Flange & Valve Facing Equipment. Portable lathes for sealing surfaces, flanges and bores
0 mm (0.00") ID
1200 mm (47.24") OD
TU 1400 Flange & Valve Facing Equipment. Portable lathes for sealing surfaces, flanges and bores
0 mm (0.00") ID
1400 mm (55.12") OD
See everything
Grinding
UR40 Grinding attachment for TU and TA
TU400 Flange & Valve Facing Equipment. Portable lathes for sealing surfaces, flanges and bores
0 mm (0.00") ID
400 mm (15.75") OD
TU600 Flange & Valve Facing Equipment. Portable lathes for sealing surfaces, flanges and bores
0 mm (0.00") ID
600 mm (23.62") OD
TU1100 Flange & Valve Facing Equipment. Portable lathes for sealing surfaces, flanges and bores
0 mm (0.00") ID
1100 mm (43.31") OD
TU 1200 Flange & Valve Facing Equipment. Portable lathes for sealing surfaces, flanges and bores
0 mm (0.00") ID
1200 mm (47.24") OD
TU400 TE Flange & Valve Facing Equipment. Portable lathes for sealing surfaces, flanges and bores
0 mm (0.00") ID
400 mm (15.75") OD
TU600 TE Flange & Valve Facing Equipment. Portable lathes for sealing surfaces, flanges and bores
0 mm (0.00") ID
600 mm (23.62") OD
TU1100 TE Flange & Valve Facing Equipment. Portable lathes for sealing surfaces, flanges and bores
0 mm (0.00") ID
1100 mm (43.31") OD
UG1 - Tungsten Electrode Sharpener & Grinder
TU 1400 Flange & Valve Facing Equipment. Portable lathes for sealing surfaces, flanges and bores
0 mm (0.00") ID
1400 mm (55.12") OD
TU 800 Flange & Valve Facing Equipment. Portable lathes for sealing surfaces, flanges and bores
0 mm (0.00") ID
800 mm (31.50") OD
See everything
Conical machining
TU400 Flange & Valve Facing Equipment. Portable lathes for sealing surfaces, flanges and bores
0 mm (0.00") ID
400 mm (15.75") OD
TU 1400 Flange & Valve Facing Equipment. Portable lathes for sealing surfaces, flanges and bores
0 mm (0.00") ID
1400 mm (55.12") OD
TU 1200 Flange & Valve Facing Equipment. Portable lathes for sealing surfaces, flanges and bores
0 mm (0.00") ID
1200 mm (47.24") OD
TU400 TE Flange & Valve Facing Equipment. Portable lathes for sealing surfaces, flanges and bores
0 mm (0.00") ID
400 mm (15.75") OD
TU600 Flange & Valve Facing Equipment. Portable lathes for sealing surfaces, flanges and bores
0 mm (0.00") ID
600 mm (23.62") OD
TU 800 Flange & Valve Facing Equipment. Portable lathes for sealing surfaces, flanges and bores
0 mm (0.00") ID
800 mm (31.50") OD
TU600 TE Flange & Valve Facing Equipment. Portable lathes for sealing surfaces, flanges and bores
0 mm (0.00") ID
600 mm (23.62") OD
TU1100 TE Flange & Valve Facing Equipment. Portable lathes for sealing surfaces, flanges and bores
0 mm (0.00") ID
1100 mm (43.31") OD
TU1100 Flange & Valve Facing Equipment. Portable lathes for sealing surfaces, flanges and bores
0 mm (0.00") ID
1100 mm (43.31") OD
AC38 Attachment for conical machining for TU600
150 mm (5.91") ID
580 mm (22.83") OD
AC38 Attachment for conical machining for TU400
100 mm (3.94") ID
320 mm (12.60") OD
RTJ System for Conical Machining for RTJ grooves for TU1100
0 mm (0.00") ID
1100 mm (43.31") OD
RTJ System for Conical Machining for RTJ grooves for TU400
0 mm (0.00") ID
400 mm (15.75") OD
RTJ System for Conical Machining for RTJ grooves for TU600
0 mm (0.00") ID
600 mm (23.62") OD
AC38 Attachment for conical machining for TU1100
200 mm (7.87") ID
1000 mm (39.37") OD
See everything