SERCO – THE FUTURE OF ON-SITE MACHINING
"We are what we repeatedly do. Excellence, then, is not an act, but a habit."
Aristotle
The force to be part of the PROTEM Group, a leader in the manufacture of high precision machinery
SERCO is part of the PROTEM Group as well as being an industry leader in its own right. Together, PROTEM, SERCO and ULTIMASTER provide a wide range of machine tools and services that are highly complementary for all machining and welding preparation work regarding tubular components, boiler and heat exchanger tubes, for the replacement of steam generators, for the machining of flanges and valves, for the dismantling of the internals of nuclear reactors and nuclear vessels.
SERCO is a company which specializes in the study, conception, and manufacturing of mobile machining units. SERCO's distinction comes from its capacity to design and manufacture equipment whose components enable the machine operator to obtain a perfect rigidity when the machine is fixed onto flanges and valves. This allows very high precision machining, up to an accuracy of 0.001 mm. SERCO is widely regarded as the only worldwide manufacturer to offer machines with an independent adjustment of concentricity and flatness. Moreover, the SERCO mobile machining units are specially designed to be used in tight spaces and demanding environments.
PROTEM is also a company which specializes in the study, conception and manufacturing of portable machines for construction, maintenance, repair, and dismantling of tubes and pipes. PROTEM machining applications are varied from orbital cutting, severing, beveling, squaring, counterboring, facing, surfacing, drilling and boring to cutting heat exchanger tubes to various lengths, removal of weld joints, replacement of steam generators, etc.
The PROTEM Group created the ULTIMASTER brand in order to offer a complete range of orbital cutting and tube squaring machines dedicated to tubes with thin wall thickness.
Thanks to its powerful technical and human resources, the PROTEM Group is able to manufacture portable and transportable machines and also machines which are specially designed to meet the requirements of customers from many fields of activity such as Energy (Nuclear, Oil & Gas, Boiler, Renewable Energy), Tube and Valve manufacturing, Welding, Shipbuilding, Chemistry, Aerospace and Aircraft industries and High Purity industries (Pharmacy, Semiconductors, Food, White Rooms…).
For more than 50 years, the PROTEM Group has demonstrated its flexibility, responsiveness and capability to adapt itself to complex situations which has established the PROTEM Group worldwide as the leading manufacturer whose entities have taken part in major industrial projects:
More than 20.000 PROTEM and SERCO portable machines are being used all around the world.
PROTEM and SERCO have designed more than 3500 specialty machines.
Innovation, highest quality and reliability are constant goals for the PROTEM Group which enables it to anticipate the needs and expectations of customers and partners.
Thanks to its success and the confidence shown by customers worldwide, the PROTEM Group is proud of its position as a global leader in the portable machine tools market.
Shipbuilding

Description de la vignette

Oil & Gaz Industry

Description de la vignette

Nuclear Power Plant

Description de la vignette

Hoisting and handling

Description de la vignette
THE PRODUCT RANGE INCLUDES A WIDE SELECTION OF PORTABLE MACHINING EQUIPMENT
Boring and surfacing machines
Surfacing machines
Grinding machines
Threading machines
Honing machines
Special machines
SERCO machines represent the best compromise between light-weight, compactness, rigidity and precision. Their size and light weight will increase your productivity by saving time thanks to their simple and quick installation, gains in dosimetry, ease of use, etc.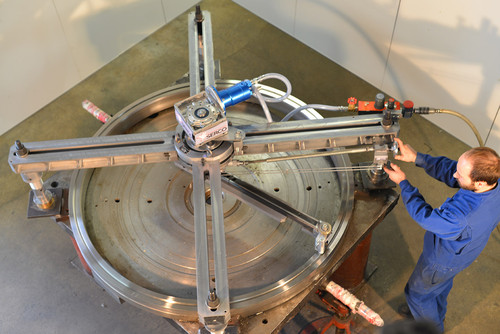 SERCO MACHINES ARE DESIGNED FOR THE REPAIR AND MAINTENANCE OF VARIOUS COMPONENTS