Ship-Building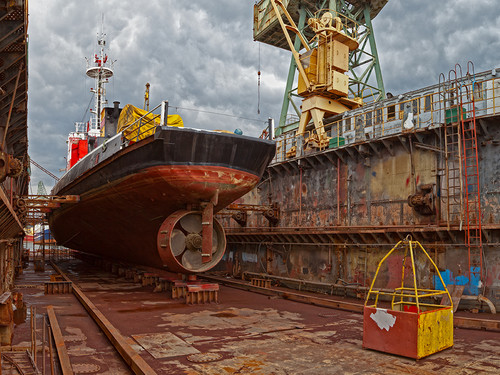 On board submarines, maintenance operations often prove to be delicate and may even last several months. To avoid damage wherever possible, high-precision and rapid maintenance operations must be regularly carried out on large numbers of flanges, valves and pipes.
Where can a SERCO portable machining unit be used?
SERCO-designed and built equipment can be used in confined spaces and demanding environments.
SERCO has designed surfacing and boring machines both for military navy (submarines, aircraft carriers) and merchant navy (cargo vessels, ferries, liners etc.) projects, which cover a very wide range of diameters and can be used for many different applications.
Why prefer SERCO equipment?
Our equipment is reputed for its quality, capabilities, ease of use, light weight and dependability. It is designed for high-precision machining operations. The equipment's weight and dimensions enable it to be used in difficult to access work areas or under demanding conditions (ionizing radiation, extreme temperatures, saline environments, etc.)
Examples of applications:
SERCO machines are particularly suitable for repairing diesel engines due to the length of their boring stroke and the quality of surface finish they provide. In this way, they contribute to increasing the service life of engines and thereby make significant savings.
SM8 Tube facing & beveling machine with pneumatic drive

8 mm (0.31") ID
32 mm (1.26") OD

S18 - Tube beveling machine with pneumatic drive

14 mm (0.55") ID
42 mm (1.65") OD

US40 - Tube & Pipe Chamfering Machine with pneumatic drive ID locking beveling machine

43 mm (1.69") ID
273 mm (10.75") OD

SE2T - Facing machine for tubes, fittings, micro fittings and elbows

3 mm (0.12") ID
60.3 mm (2.37") OD

US25CH - Tube and pipe beveling machine with pneumatic drive 730 W

12.5 mm (0.49") ID
120 mm (4.72") OD

US30CH - ID mount beveler with pneumatic drive for boiler tubes

32 mm (1.26") ID
168.3 mm (6.63") OD

SE90NG - Tube squaring and beveling machine with pneumatic drive

10 mm (0.39") ID
90 mm (3.54") OD

TTSNG168 - Clamshell Cutting & Beveling machine-Pipe Cold Cutting Machine for pipes from 88 to 168 mm

88.9 mm (3.50") ID
168.3 mm (6.63") OD

TTNG-HD219 - Clamshell Cutting & Beveling machine-Pipe Cold Cutting Machine for pipes ranging from 4" to 8"

114.3 mm (4.50") ID
219.1 mm (8.63") OD

XP600 Portable Equipment for Facing Flanges and Valves

0 mm (0.00") ID
600 mm (23.62") OD

TU200 Flange & Valve Facing Equipment. Portable lathes for sealing surfaces, flanges and bores

0 mm (0.00") ID
200 mm (7.87") OD

UG1 - Tungsten Electrode Sharpener & Grinder




FBB2-6 Elbow Bench Beveling Machine

60.3 mm (2.37") ID
168.3 mm (6.63") OD

OCM - Orbital Cutting and Beveling Machine for Tubes and Pipes - Pipe Cutter

168.3 mm (6.63") ID
3048 mm (120.00") OD

FBB1-3 - Elbow Bench Beveling Machine

33.4 mm (1.31") ID
88.9 mm (3.50") OD

US3 - Orbital Tube Cutting Saw for Ø from 0.196" to 3.5"

5 mm (0.20") ID
88.9 mm (3.50") OD

US6 - Orbital Tube Cutting Saw for Ø from 0.5" to 6"

12.7 mm (0.50") ID
168 mm (6.61") OD