Heat Exchangers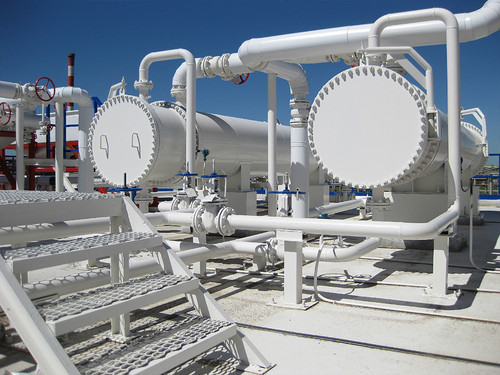 Contrary to what we may think, heat exchangers do not exchange heat but they transfer the heat from a hot fluid to a cold fluid. The tubes containing the hot and cold fluids are not in contact with each other.
Heat exchangers are used in a large numbers of industrial domains, especially those which use fluids at high temperatures.
There are several types of heat exchangers. They include the following types:
'U' tube heat exchangers
Horizontal shell and tube heat exchangers
Coil heat exchangers
Plate heat exchangers
Heat exchangers contain large numbers of tubes. These tubes are generally expanded by rolling (a cold process).
Our equipment is designed to carry out various types of jobs on heat exchangers:
Cutting tubes to length
Removing weld seams
Beveling tubes
When the tubes are expanded by rolling, the machine's clamping jaws are adapted for clamping on two different diameters.
Our bevelers can also machine tubes with vanes (repairing or optimizing vane heights)
SM8 Tube facing & beveling machine with pneumatic drive

8 mm (0.31") ID
32 mm (1.26") OD

S18TP - Bevelling machine for boiler & heat exchanger tubes

17.5 mm (0.69") ID
45 mm (1.77") OD

US25TP - Tube and pipe beveling machine for heat exchanger tubes beveling Cut to Length Weld Removal

25.4 mm (1.00") ID
63.5 mm (2.50") OD

US25CA - Beveling machine with automatic clamping system

12.5 mm (0.49") ID
120 mm (4.72") OD

US30CH - ID mount beveler with pneumatic drive for boiler tubes

32 mm (1.26") ID
168.3 mm (6.63") OD

US30CA - ID mount beveler with pneumatic drive with autom. clamping system

32 mm (1.26") ID
168.3 mm (6.63") OD

US25TA - Machining Unit for Fin Tubes

12.5 mm (0.49") ID
120 mm (4.72") OD

US40CA - Tube and pipe beveling machine with pneumatic drive with autom. clamping system

43 mm (1.69") ID
273 mm (10.75") OD

XP2200 Portable Equipment for Facing Flanges and Valves

250 mm (9.84") ID
2280 mm (89.76") OD

TU600 Flange & Valve Facing Equipment. Portable lathes for sealing surfaces, flanges and bores

0 mm (0.00") ID
600 mm (23.62") OD

FBB2-6 Elbow Bench Beveling Machine

60.3 mm (2.37") ID
168.3 mm (6.63") OD

FBB1-3 - Elbow Bench Beveling Machine

33.4 mm (1.31") ID
88.9 mm (3.50") OD